Horizon Bag uses modern and state of the art European machines to print and produce high quality customized paper bags for a diverse range of clients. We only use certified raw materials from leading manufacturers in the world. The kraft paper used for making paper bags are made of 100% virgin pulp sourced from Estonian pine and spruce.
We execute high resolution flexographic printing of complex designs in upto 8 colours. We can print any kind of custom design for you with photographic print quality.
We constantly strive to improve our production practices to be more environmental friendly and energy efficient.
Printing options
Flexographic printing is the process in which an anilox roller transfers water based ink to a pre-designed printing plate which prints the required design and logo onto the paper.
For some custom designs, it is necessary to make separate printing plates for each color.
We provide our customers printed bags in up to 8 colors for orders starting from 10 000 pieces. For orders below 10 000 pieces, we can provide up to 2 colors printing.
Special solutions
In case you have not found the bag you were looking for in our e-shop, please check out our special solutions table below to learn more about all the custom size and characteristics combination possibilities we can offer you.

1) Shopping bags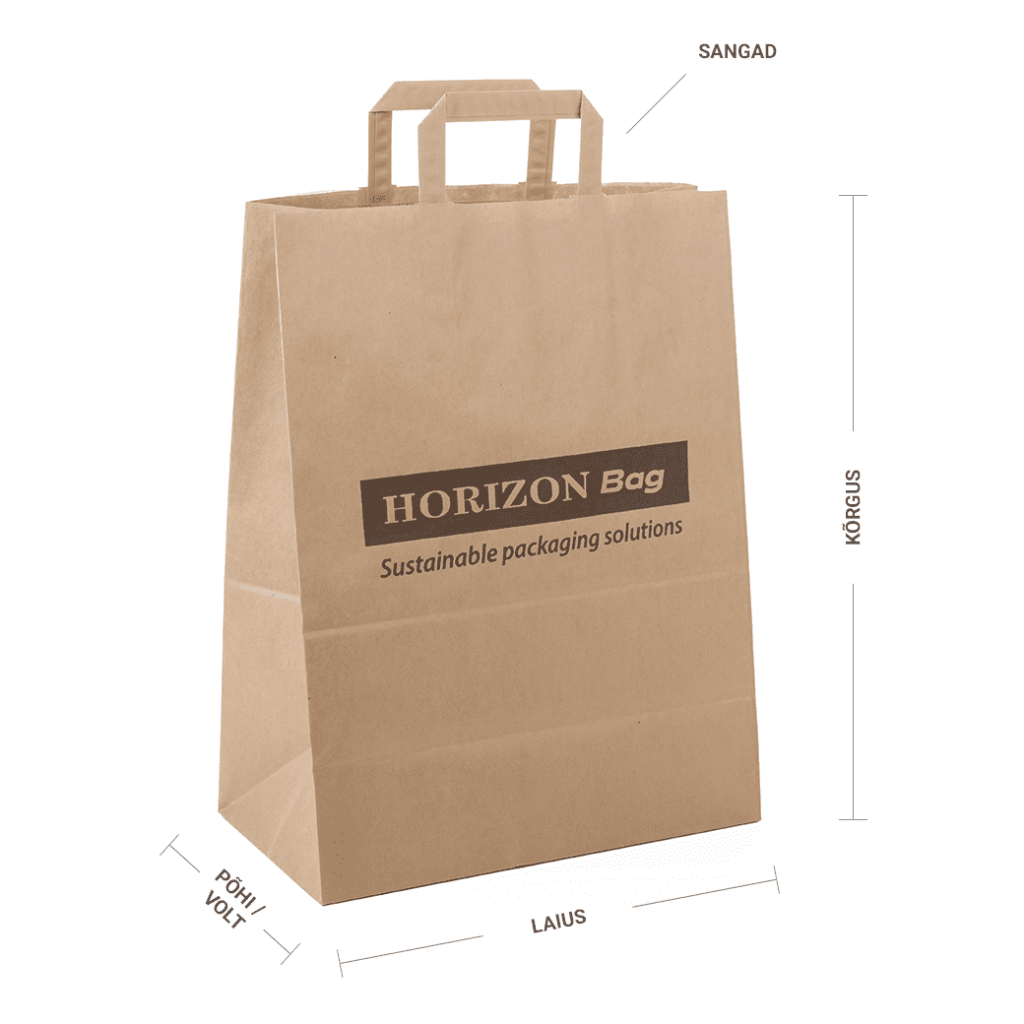 Width
(mm)
Bottom
(mm)
Height
(mm)
Layer
Handles
250
70 – 150
260 – 690
Possible options:
*Paper
*Paper + Paper
Flat
320
70 – 220
260 – 690
Possible options:
*Paper
*Paper + Paper
Flat
350
70 -220
260 – 690
Possible options:
*Paper
*Paper + Paper
Flat
450
70 -220
260 – 690
Possible options:
*Paper
*Paper + Paper
Flat
2) Paper bags without window
Width
(mm)
Bottom
(mm)
Height
(mm)
Layer
Thumbhole
80
50 – 55
220 – 530
Possible options:
*Paper
*Paper + Paper
Possibility with or without
100
50 – 70
220 – 530
Possible options:
*Paper
*Paper + Paper
Possibility with or without
130
50 – 90
220 – 530
Possible options:
*Paper
*Paper + Paper
Possibility with or without
170
50 – 120
220 – 530
Possible options:
*Paper
*Paper + Paper
Possibility with or without
250
70 – 150
260 – 690
Possible options:
*Paper
*Paper + Paper
Possibility with or without
320
70 – 220
260 – 690
Possible options:
*Paper
*Paper + Paper
Possibility with or without
350
70 – 220
260 – 690
Possible options:
*Paper
*Paper + Paper
Possibility with or without
450
70 – 220
260 – 690
Possible options:
*Paper
*Paper + Paper
Possibility with or without
3) Paper bags with window
Width
(mm)
Bottom
(mm)
Height
(mm)
Layer
Windows
Thumbhole
80
50 – 55
220 – 530
Possible options:
*Paper
*Paper + Plastic
Possible options:
*Circle
*Square
Possibility with or without
100
50 – 70
220 – 530
Possible options:
*Paper
*Paper + Plastic
Possible options:
*Circle
*Square
*Oval
*Rectangle
Possibility with or without
130
50 – 90
220 – 530
Possible options:
*Paper
*Paper + Plastic
Possible options:
*Circle
*Square
*Oval
*Rectangle
Possibility with or without
170
50 – 120
220 – 530
Possible options:
*Paper
*Paper + Plastic
Possible options:
*Circle
*Square
*Oval
*Rectangle
*3 Holes
Possibility with or without
4) Paper bags with die cut handles
No.
Width
(mm)
Bottom
(mm)
Height
(mm)
Die Cut Handle
Shape Types
Layer
1
250
100
300
Possible Options:
A, B, C, D
Paper Only
2
250
150
300
Possible Options:
A, B, C, D
Paper Only